There's nothing more beautiful than having those long lashes that make your eyes even more impactful and mysterious. However, for most people, this is just a dream, especially if we are talking about having natural lashes.
Getting lash extensions is great – but to be honest, natural trumps artificial any day.
Plus, getting extensions can cause damage to your lashes and they take a very long time to grow back.
Now, let's see what you can do about it.
How long does it take eyelashes to grow?
To most people, eyelashes are very important. If eyes are the windows to the soul, then the lashes are curtains – and any window looks better with fancy curtains.
Longer, denser lashes – that's the dream.
But before you start trying out different things, you need to know a bit about eyelashes so that you are well-prepared for this journey.
First off, eyelashes are not just an accessory, they protect your eyes from sweat and dirt. Now, this is what nature has intended but we often forget this original purpose.
They sometimes fall off, as well. While some of you may panick, it's good to know that eyelashes fall off not because you did something bad, but because it's a part of their natural growth cycle.
This happens more so when you use false lashes, pillows, curlers, a lot of mascara, if you wipe your eyes too much or too harshly and so on. But, just like hair after similar rigorous treatments, the lashes grow back, healthy and strong.
Lashes have growing and resting phases too. At the end of the resting phase, the hairs will fall off and new ones will grow. This can take anywhere from 1 to 6 months.
If you want your lashes to be healthy and stay put, you should:
Throw out all of the makeup you have that's older than 6 months
Don't rub your eyes too hard
Use good products for eyelash growth
What products help your eyelashes grow?
So, now that you know what it takes – and how long it takes – to grow long and strong eyelashes quickly – let's discuss some products that you can use.
Eyelash growth problems and desires are quite common and brands have caught on. It's also good to know that you are not alone.
So, whether you had a beauty mishap and now need to grow your entire lash line back or you simply want to make your lashes thicker and longer, here's the kit that you will need:
Many people recommend this serum because it works very well. Experts are in awe of it while the public reviews remain neutral in terms that it worked for some people and then that it didn't for others. However, you need to apply it every night for it to work.
People say that out of all of the lash treatments, this one is by far the best. Some even say that your lashes can grow in just two weeks.
Okay, so this is not so much a product as it is an oil but it's a life saver whether you want longer hair or longer lashes. Leave it in over night or in the morning and you will see a lot less lashes falling out.
Another helpful oil, castor is famous for its hair growth abilities. Mix it with coconut oil to make it easier to put on and apply them with a disposable mascara stick.
If you are going to apply oils properly, then you better have these around. They can also have use for lash brushing since this can help your lashes grow faster. Brushing removes debris and dead skin cells, which creates enough room for your lashes to grow.
What oils help your eyelashes grow?
False eyelashes look great, but who doesn't want fabulous lashes in the most regular life situations. This is why growing your lashes naturally is a big plus. But even though that sounds great, it might seem quite impossible.
Fortunately, it's not.
You can grow your lashes simply and easily – although it can take a bit of time – by using helpful oils and DIY techniques. This extra attention will result in fuller, more beautiful lashes that will amaze anyone who sees you.
But before we offer any at-home solutions, it's best that you talk to your doctor or dermatologist and see what they think.
Here are some things that worked for other people and that just might work for you:
Olive oil
Olive oil is a famous beauty ingredient and it can work on lashes too. Applying it to your lash line before bed makes the nutrients enter your lashes and allows them to grow stronger and longer.
Coconut oil
Coconut oil is another famous beauty aid for anything from hair to nails or teeth. It can also be great for your lashes and nourish them properly. A thin amount before bed should do the trick.
Vitamin E
Vitamin E works wonders on skin and hair and it can boost your lashes as well. You can use the capsules with coconut oil.
Accelerating mascara
Get a mascara that can accelerate your lash growth – this will allow you to look amazing while nourishing your lashes at the same time.
Castor oil
Another useful oil, castor is widely used by women in hair growth and beauty potions. It can also be used to make your lashes longer and thicker.
Comb your lashes
As mentioned, getting a mascara wand to brush your lashes can make a huge difference, not just because you'll remove the dust but also because it will separate and accentuate your lashes.
Take some vitamins
Any B vitamin is amazing for hair growth and Biotin is one of the best. If you want a speedy growth, take this vitamin daily.
Use an eyelash serum
This is not quite an oil or a DIY version of it but it helps to have one of these handy because they really speed up the growth.
Green tea
Green tea is powerful with antioxidants that can do wonders – apply it cool on your lash line and allow your lashes to grow.
Do eyelash growth serums really work?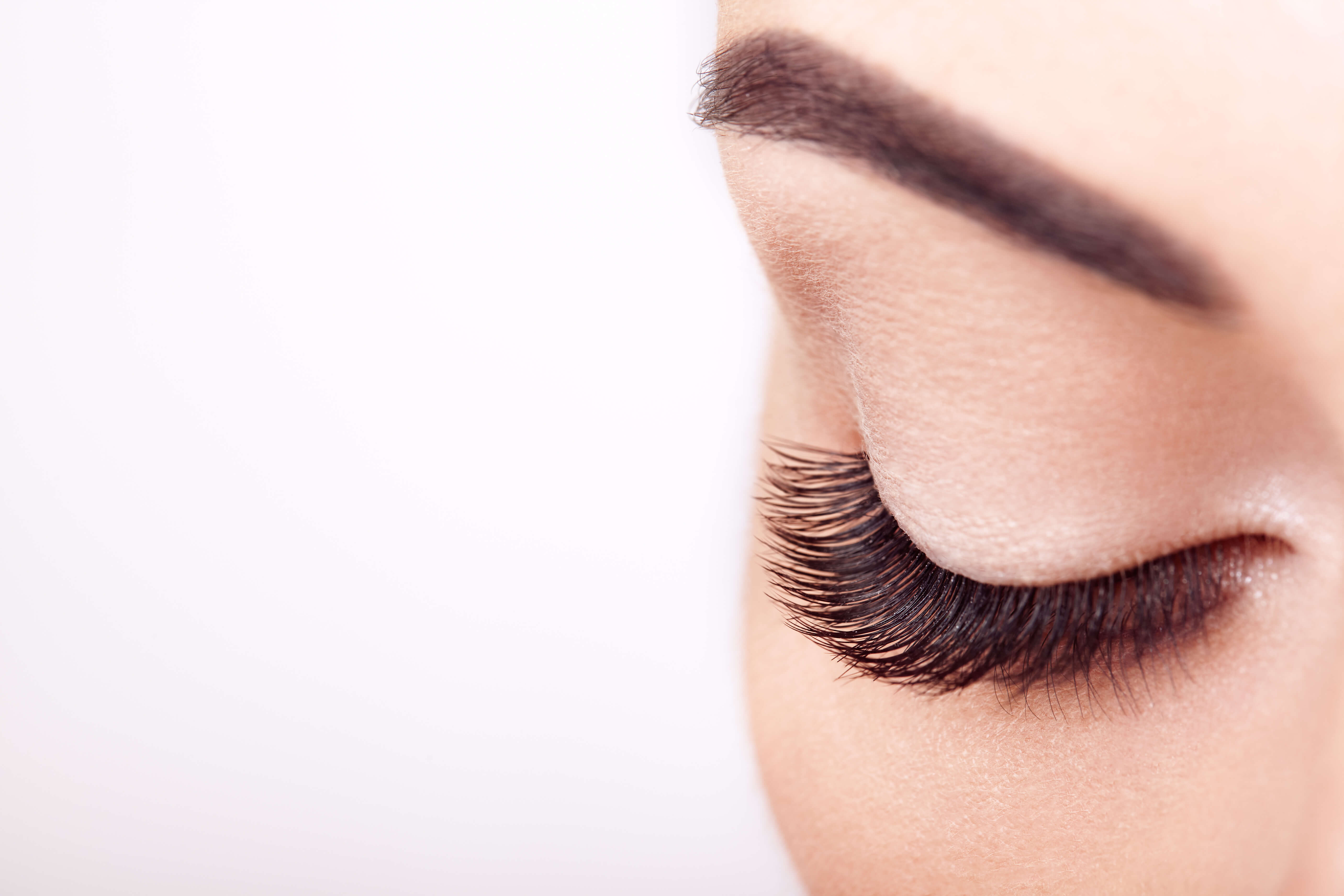 So, after learning all about all of these helpful serums, you must be wondering: does that really work?
It sounds lovely – grow longer, thicker and more curled lashes – but how realistic can it really be?
There has been a steady rise in products that help grow the lashes and recover them. Applying them topically means that you will get longer and stronger lashes in just a few weeks.
Most of the products available on the market today are created based on research and contain active ingredients that can help you grow lashes. Latisse is the most popular product in this niche and it helps people grow lashes very quickly and effectively. Others have less effects but at the very least, a lash growth serum can help you condition your lashes and keep them safe from dirt and toxins.
Are they safe?
In most cases they are. But only use the lash serums that are recommended by experts and check with your doctor before committing to any of them.
DIY Eyelash Growth Serum
So, now that we know that serums work and that there are numerous options on the market and in kitchens, you need a good DIY recipe that will make your lashes bloom.
Here are some of the natural eyelash growth serums that can help without the side-effects that come with some of the OTC serums.
Castor Oil and Vitamin E
Preliminary studies show that castor oil can boost the hair growth in general and this goes for the lashes too. But even more importantly, people have confirmed that it works like magic for the lashes. So much so that even the dermatologists recommend it. The only problem may be that its oily – as oils tend to be – and some people break out from it. But, the reports are majorly positive and you should definitely try it.
Create a DIY recipe with aloe vera – full of vitamin E – and castor oil and apply it to your lashes before bed. This will really help grow your eyelashes. You can also mix castor oil with vitamin E capsules.
Coconut oil and Almond oil
Both of these home remedies have a great number of fans. For a good reason too – google any of these oils and lash growth and you'll see numerous great images. There isn't a specific recipe for any of these – just apply them with a clean mascara wand to your lashes and that's it.
However, this is still introducing strange liquids to your eyes which means that you should do a skin test before actually doing it. Your applicator should be clean and you should use a different one every time you apply the serums. Your skin should be clean and clear of makeup. Always wash the serums off before applying makeup.
Keep in mind that lashes are meant to fall out so this isn't such a big deal. This means that new lashes will grow and they will look amazing.
References
http://www.doyoureyelashesgrowback.com/how-fast-do-eyelashes-grow-back/
https://www.bustle.com/articles/159267-9-eyelash-growing-hacks-for-fuller-longer-lashes
https://www.choice.com.au/health-and-body/beauty-and-personal-care/skin-care-and-cosmetics/articles/eyelash-serums